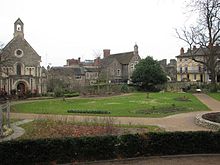 St James Roman Catholic School in Reading was a very good primary and senior school which has sadly been closed down.  It is now a nursery school.
Back in 1952, four pupils from St James were fortunate enough to pass the Eleven Plus exam and go on to Reading School. I certainly give the most credit to a teacher by the name of Mrs Fuller who was strict but fair and a very good teacher.
Those four boys were myself – John Cummings – and Derek (Dez) Maule, Jim Thompsett and Mickey Cleere. Sadly Jim is no longer with us – he passed away in June 1991. I am in touch with Mickey Cleere who lives in the UK and also with Dez Maule, who along with me, now lives in Australia. Dez lives in Burradoo near Bowral in New South Wales and I live in Anglesea on The Great Ocean Road which is about 150 kms west of Melbourne.



Dez Maule






John Cummings


We are keen to make contact with other former pupils who were at the school from 1948 till 1952 and perhaps beyond.